>
Home
>
People
>
Björn Wachter
Björn Wachter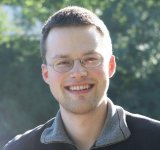 About Me
I have moved to the University of Oxford. My new website there is:
http://www.comlab.ox.ac.uk/people/bjoern.wachter

I began my studies of CS at the Universität des Saarlandes in winter 2000.
In 2005, I finished my Master's thesis and joined the lab to pursue a PhD.
I have defended my dissertation in December 2010.
Research Interests
Abstraction Refinement
Abstract Interpretation
Model Checking
Quantitative models (probabilistic, stochastic, timed)
Timing Analysis - Worst-case execution time
PASS
Check out PASS a tool that does abstraction refinement for infinite-state probabilistic models.
Projects
Publications
ADD YOUR PUBLICATIONS HERE
Attended Conferences, Workshops and Seminars
Teaching
TA: Modular Static Analysis, 2007
TA: Compiler Construction, 2006
Address
Björn Wachter
Chair for Programming Languages and Compiler Construction
FR. 6.2 - Informatik
Universität des Saarlandes
Postfach 15 11 50
D-66041 Saarbrücken

Building E1 3, Room 431
Tel: +49 (681) 302 3915
Fax: +49 (681) 302 3065
Mail: bwachter(at)cs(dot)uni-saarland(dot)de