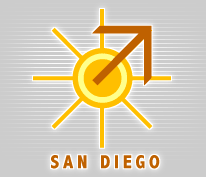 June 11-13, 2003
San Diego, USA

Sponsored by:
ACM SIGCHI, SIGGRAPH, SIGPLAN and SIGSOFT, and in cooperation with ACM SIGCSE.
---
Deadlines

Paper submission: Dec. 16, 2002

Tutorial submission: Jan. 15, 2003

Notification of acceptance: Jan. 27, 2003

Final papers due: March 10, 2003


---
Venue
SoftVis '03 is affiliated with the ACM Federated Computing Research Conference, a collection of symposia occurring June 7-14 in San Diego, CA. For more details on registration, hotel and travel information, please see the FCRC 2003 web pages.


---
Student Travel
The Conference Attendance Program for Students (CAPS) provides some financial support to graduate students, enabling them to attend SIGSOFT-sponsored conferences. The SIGPLAN Professional Activities Committee (PAC) provides support for registration fees and shared accommodation expenses for student attendance at a SIGPLAN sponsored conference where the applicant is to present a paper, is co-author of a paper on the program, or is participating in a student poster session.

---
More Information
For more information and questions about the SoftVis '03 Symposium, please send email to diehl@cs.uni-sb.de and stasko@cc.gatech.edu.

Print Call for Papers: (PDF,A4) or (PDF,Letter)
Final Program
Wednesday, June 11th, 2003
Afternoon Tutorials
(2pm-6pm)
Thursday, June 12th, 2003
Session 1 - Interesting Program Representations
(8:40am-10:10am)
Program Animation Based on the Roles of Variables
Jorma Sajaniemi, Marja Kuittinen
Growing Squares: Animated Visualization of Causal Relations
Niklas Elmqvist, Philippas Tsigas
3D Representations for Software Visualization
Andrian Marcus, Louis Feng, Jonathan Maletic
Session 2 - Integrating SV Systems
(10:25am-11:25am)
EVolve: An Open Extensible Software Visualisation Framework
Qin Wang, Wei Wang, Rhodes Brown, Karel Driesen, Bruno Dufour, Laurie Hendren, Clark Verbrugge
Plugging-in Visualization: Experiences Integrating a Visualization Tool with Eclipse
Robert Lintern, Jeff Michaud, Margaret-Anne Storey, Xiaomin Wu
Session 3 - Visualization for Program Understanding
(2pm-3:30pm)
Visualizing Java in Action
Steven Reiss
Visualization of Program-Execution Data for Deployed Software
Alessando Orso, James Jones, Mary Jean Harrold
A System for Graph-Based Visualization of the Evolution of Software
Christian Collberg, Stephen Kobourov, Jasvir Nagra, Jacob Pitts, Kevin Wampler
Session 4 - Demo/Poster session
(4pm-6pm)
Friday, June 13th, 2003
Session 1 - Algorithm Animation Evaluation
(8:40am-10:10am)
Algorithm Visualization in CS Education: Comparing Levels of Student Engagement
Scott Grissom, Myles F. McNally, Tom Naps
Dancing Hamsters and Marble Statues: Characterizing Student Visualizations of Algorithms
Teresa Hübscher-Younger, N. Hari Narayanan
Designing Effective Program Visualization Tools for Reducing User's Cognitive Effort
M. Eduard Tudoreanu
Session 2 - Debugging and Finding Faults
(10:25am-11:25am)
Interactive Visual Debugging with UML
Timothy Jacobs, Benjamin Musial
End-User Software Visualizations for Fault Localization
Joseph Ruthruff, Eugene Creswick, Margaret Burnett, Curtis Cook, Shreenivasarao Prabhakararao, Marc Fisher II, M. Main
Session 3 - Software Visualization for Specific Domains
(2pm-3:30pm)
Interactive Locality Optimization on NUMA Architectures
Tao Mu, Jie Tao, Martin Schulz, Sally A. McKee
Graph Visualization for the Analysis of the Structure and Dynamics of Extreme-Scale Supercomputers
Cheng Zhou, Kenneth L. Summers, Thomas P. Caudell
Visualizing Software for Telecommunication Services
Emden R. Gansner, John M. Mocenigo, Stephen C. North
Session 4 - All Things UML
(4pm-6pm)
Nice Class Diagrams Admit Good Design?
Holger Eichelberger
Visualizing Model Mappings in UML
Jan Hendrick Hausmann, Stuart Kent
A New Approach for Visualizing UML Class Diagrams
Carsten Gutwenger, Michael Jünger, Karsten Klein, Joachim Kupke, Sebastian Leipert, Petra Mutzel
A Topology-Shape-Metrics Approach for the Automatic Layout of UML Class Diagram
Markus Eiglsperger, Michael Kaufmann, Martin Siebenhaller
---